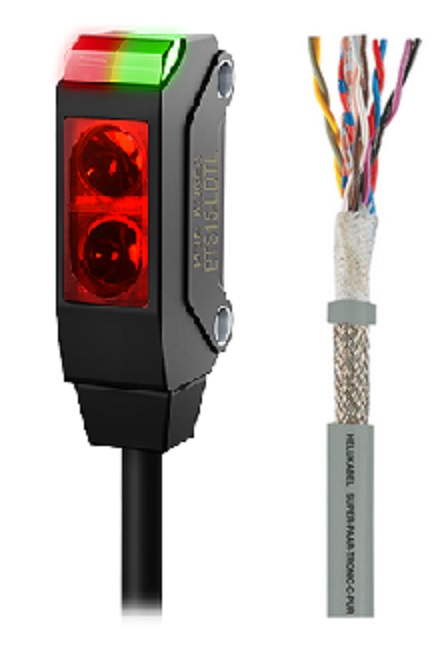 Electrical and Automation
Automation is one of the necessary branches for the development of the modern industry. Automation helps to reduce production costs, improve the quality, and maximize the life of the equipment. As an industrial automation distributor, we offer various solutions, such as temperature controllers, counters, control switches, motion devices, rotary encoders, proximity sensors, and more.
Durable and reliable electric cables are required to handle the high mechanical stress and repetitive movements of automation. Our company offers a wide range of cables and wires for both stationary and flexing applications. They can be used in tool-making and machine industries, in dry, moist, and wet conditions, computer systems, plant installation, power stations, data equipment, steel production, rolling mills, and more.
In HVH, you can find a variety of cables and cable accessories, including servo cables, drag chain cables, fiber optic cables, cables for media technology, cable accessories like cable glands, industrial connectors, and many more.
HVH Industrial works with manufacturers' specialized engineering teams to meet our customers' requirements and highest quality standards.
If you have any questions, write us via live chat (one of our team members will answer your questions), give us a call, or send us a quote request. The HVH team is always ready to help you.
1(866)577-4040
or
---
Electrical and Automation
---
Manufacturers
---
Automation of all production stages is necessary for modern industrial development. Actively started in the last century, this process allows the most efficient use of available economic resources: equipment, labor, raw materials, capital investments, and energy. In addition, automation makes it possible to significantly reduce the cost of production, improve its quality and maximize the life and reliability of equipment and technical structures. Our company is an industrial automation distributor so you can order various automation systems from us at competitive prices.
Types of Industrial Automation
Industrial automation involves introducing new technologies into the production process and allows all control and management functions to be performed using automatic systems and instruments. There are four types of industrial automation:
Fixed Automation
Fixed automation is the simplest type of automation. The sequence of operations in this type of automation is fixed; the transition from one type of product to another is impossible. This type provides high performance, but there are also disadvantages, such as high initial investment. Fixed automation is suitable for high-volume production. That is why this automation is used in mass production.
Programmable Automation
Programmable automation allows operators to adapt and reorder the entire production process to accommodate deviations in the finished product, such as color changes in children's toys. Programmable automation is, as a rule, numerically controlled machines that operate under the control of computer programs and are used to produce various batches of goods with any deviation.
Flexible Automation
Flexible automation - automation of manufacturing processes for products of a rapidly changing range in small or medium batches, characterized by combining modules based on a computer. This type of automation can be characterized as equipment for automatic transportation and warehousing, quality control using a computer, and efficient production management. Flexible automation is rightfully considered the core of the innovation economy.
Complex automation
Complex automation, which involves the operation of production sites as a single automatic complex, is reasonable with high technological support and industrial automation systems. With such a production organization, a person exercises only general management, controlling the operation of automatic systems.
What does industrial automation mean?
Let's explain the meaning of industrial automation as simply as possible. Industrial automation is the automation of technological processes by available tools. These tools include electrical, hydraulic, pneumatic, mechanical, and electronic devices used in industrial automation.
Industrial automation includes devices, mechanisms, and equipment designed to automate various production and technological processes within various industrial productions.
Industrial automation is used to organize automatic control systems. These types of devices are in demand in all industries.
Working based on industrial automation guarantees the high safety of work processes and significantly expands the possibilities of using various production equipment. Industrial automation is most in demand for:
automation of production lines, workplaces, etc.;

organizing the work of various industrial robots and robotic processes;

providing processes based on CNC machines;

We provide unified information and computing system for the operation of the enterprise, including product quality control systems and much more.
Block diagram of industrial automation system
Below you can see the simple block diagram of industrial automation. This diagram will help you better understand industrial automation.
Distribution company for industrial automation
HVH Industrial Solutions is a distributor of industrial automation systems. Today, automation is essential in all areas of industry. This circumstance allows developers and manufacturers of technological innovations to supply the market with more and more new devices and materials. There are more and more companies whose main activity is automation and industrial fittings. Such companies are engaged in producing and marketing technological equipment, drive technology, electronics, fittings, hydraulic and pneumatic devices, direct components of control and management systems, sensors, controllers, automated production lines, and robotics.
Industrial automation bureaus are engaged in the development and implementation of modern technologies. The creation of the latest automatic devices, control, and measuring systems, Tand Technotronic modules is the prerogative of such institutions.
Advantages of industrial automation
Now let's talk about the advantages of industrial automation. Industrial automation helps enterprises significantly improve product quality and increase production volumes. This happens as a result:
a significant increase in the speed of workflows;

growth of productivity and labor efficiency;

improving the safety of workers by minimizing the participation of a person in the performance of hazardous work;

replacement of manual labor with automated processes, especially in terms of performing labor-intensive and hazardous work;

reduction of time of performance of various technological operations.
Thanks to the automation of processes, the company can significantly reduce costs, increase output, and use the released funds to develop its business. The introduction of complex automated systems allows you to increase the sales markets for products by gaining an advantage over competitors.
Electric automation
Electrical automation simplifies the control of systems so that electricity, appliances, and appliances turn on and off on command. In other words, electrical automation is the ability to automate and control electrical energy using smart devices (such as smartphones, tablets, etc.).
Nowadays, the industry can not function without electrical automation because it was the central element of the 3rd industrial revolution. The target sectors of electrical automation are mechanical engineering, food processing, plastics, automotive, electronics, packaging, etc.
How does electrical automation work?
Nowadays, smart devices are available to almost everyone and are widely used in the industry. Now imagine you are controlling the electrical automation from your smart device from any location. That's practice. You will get complete individualized control over such vital systems as:
lighting,

overall energy usage,

appliances,

temperature,

shade,

etc.
Supplier of industrial automation products
HVH is a supplier of industrial automation products and represents some of the popular brands in this industry. Our company is a supplier of Autonics, Brook Crompton, WITTENSTEIN, Bonfiglioli, and SEW Eurodrive.
Electric Cables
An electric cable transports electrical energy from one point to another by providing a low-resistance path for the current to flow through. Electric cables are made up of a metal wire core that offers good conductivity, such as copper or aluminum, along with other material layers, including insulation, tapes, sheathing, etc. The additional layers let the metal core conduct electrical current safely in the environment it is placed in.
Electrical cables and wires are used to carry electrical current, but they are different. A wire consists of one electrical conductor, while a cable consists of a group of wires inside a standard sheathing.
Electric Cables are categorized according to their measurements of volts: low voltage cables, medium voltage cables, and high voltage cables.
Low-voltage cables are available in up to 750V and up to 1000V. Low voltage cables (750V) are designed according to harmonized standards and are built with thermoplastic and thermoset coatings. At the same time, the low-voltage cables (up to 1000V) are designed according to international standards (UNE, IEC, BS, UL) and are used for industrial power installations. Medium Voltage cables are from 1kV to 36kV and are used to transfer electricity from electrical substations to transformer stations. Finally, the high voltage cables are from 36kV and above and are used to transfer electricity from the plants to the substations.
The amount of current which can effectively flow through the electrical cable will be determined by a combination of factors:
Insulation material

Resistance of the conductor material

The cross-sectional area of the conductor

Installation method or environment
Types of Electric Cable
The most common types of cables are flexible control cables, date and computer cables, drag chain cables, heat-resistant cables, and power cables.
Flexible Control Cables consist of a bare copper conductor and fine wire, inner and outer sheath of PVC, galvanized steel wire braid, and with meter marking. Flexible control cables can withstand repetitive motion and constant bending without damage. It is generally intended for automated systems with constant movements, such as robotics or conveyors, to connect power from the primary source or machine components.
Flexible Control Cables
Data and Computer Cables consist of a bare copper conductor wrapped with foil, drain-wire, tinned, tinned, copper braided screen, the outer sheath of special PVC, and gray sheath color. Data and computer cable is a flexible, meter-marking, extensively oil- and chemical-resistant cable which provides free movement without tensile stress or forced movement in dry, moist, or wet rooms. It is widely used for tool making and machine industries, electronic, computer, measurement, and control sectors.
Data and Computer Cables
A Drag Chain Cable consists of a bare copper conductor, and extra fine wire and cores are stranded in layers with optimal selected lay length. It is highly resistant to mechanical strain and guarantees permanent application under extremely high bending stress in multi-shift operations.
Drag Chain Cable
A Heat-Resistant Cable is a unique silicone multicore cable with a high heat-resistance range that works under -60°C to +180°C temperature ranges (for a short time +220°C). Silicone cables are halogen-free cables that are especially suited for installation in power stations. They can also be used in steel-producing, aviation, shipbuilding, ceramic, glass, and cement industries.

Heat-Resistant Cable
Power Cable is a halogen-free cable with low smoke development and limited fire propagation. The cable is used for energy supply installed in the open air, the underground, in water, concrete, indoors, cable ducts, power stations, industry and distribution boards, and subscriber networks, where mechanical damages are not expected.
Power cables are used in the applications where harm to human life and damage to property must be prevented in the event of a fire, such as power stations, commercial establishments, industrial installations, hotels, airports, underground stations, railway stations, and more.
Power Cable
Wire Labelling
Labeling the cables provides information about their insulation types, the number of wires, and the gauge of the wires.
14-2G: The cable contains two insulated wires and a ground wire; the individual wire is 14-gauge.
14-3G: The cable contains three insulated wires and a ground wire; individual wires are 14-gauge.
12-2 w/G: The cable contains two insulated wires with a ground wire; individual wires are 12-gauge.
12-3 w/G: The cable contains three insulated wires with a ground wire; individual wires are 12-gauge.
600 V: This Cable is rated for a maximum of 600 volts; commonly used NM cable for home wiring.
TYPE NM-B: NM stands for Non-metallic; it is a non-metallic sheathed cable of type B; this is the commonly used cable for wiring appliances and devices at home.
The letters THHN, THWN, THW, and XHHN, represent the main insulation types of wires.
The meaning of each letter used in the labels above is given below:
T – Thermoplastic insulation
H – Heat resistance
HH – High heat resistance (up to 194°F)
W – Suitable for wet locations
N – Nylon coating, resistant to damage by oil or gas
X – Synthetic polymer that is flame-resistant