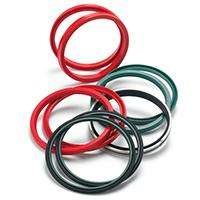 HVH Industrial Solutions is a distributor of sealing products
A seal is a device that helps join systems or mechanisms together by preventing leakage, containing pressure, or excluding contamination.
HVH Industrial Solutions offers a wide range of sealing solutions, including O rings, piston seals, rotary seals, rod seals, packing, gaskets, etc.
HVH Industrial works with the specialized engineering teams of manufacturers to meet our customer's requirements and the highest quality standards.
If you have any questions, write us via live chat (one of our team members will answer your questions), call, or send us a quote request. The HVH team is always ready to help you.
1(866)577-4040
or
---
Manufacturers
---
Sealants and adhesives are devices designed to increase the performance and reliability of machinery components. They are most commonly used on fittings, flanges, fasteners, and bearings. Sealants and adhesives block the inner space between elements, leading cause of mechanical failures. The three main types of sealants are thread-locking, pipe thread sealants, gasketing, and retaining cylindrical metal assemblies.
A threadlocker is an anaerobic adhesive made up of one component that prevents shock, vibrations, leaking, seizure, and loosening. A thread locker is a liquid applied to the threads of a fastener and fills the gap between the connected threads. After the liquid anaerobically cures, it forms a plastic adhesive that fills the gaps between the threads and bonds to the surface roughness. Threadlockers are highly reliable and cost-effective sealants, categorized according to their strength, application method, and temperature requirements.
Pipe thread sealants prevent gas and liquid leakage from different types of pipes. The main pipe sealing methods are non-curing pipe compounds, solvent-based pipe compounds, Teflon tape, and anaerobic thread sealants. Non-curing pipe compounds and solvent-based pipe compounds are two of the oldest methods of sealing leaks in threaded joints. Non-curing pipe compounds are pastes made from oils and fillers, while solvent-based pipe compounds contain volatile solvents released into the atmosphere during drying. Teflon tape is chemically resistant and is a good seal because it allows fittings to be wrenched very tight. Anaerobic thread sealant is a liquid sealant that anaerobically cures after assembly to form chemically resistant plastic that can withstand high temperatures.
Gasketing forms an impenetrable barrier between the flange and prevents the leakage of fluids and gases. The three gaskets used to seal flanges are compression gaskets, cured-in-place gaskets, and formed-in-place gaskets. Compression gaskets consist of paper, rubber, cork, metal, and other materials. Compression gaskets form a seal when they are squeezed between flange surfaces. Cured-in-place gasket is a sealant placed on the flanges by a controlled robot and cured in seconds after exposure to a UV light. The CIP is ideal for joints that must be opened regularly for service, as the gasket is permanently attached to one flange. Formed in place gasket is applied as a bead to one of the unassembled flanges, and during assembly with the other flanges, the bead seals in the voids between them. When the FIP cures, it forms a durable seal. The main advantages of FIP are that they are versatile and can be used on all types of flanges and that the flanges fully connect and eliminate compression failure.
Retaining cylinder metal assembly is an anaerobic adhesive designed to provide very high shear strength and is suitable for use on metal components subject to various loadings and environmental conditions. The two types of retained assemblies are bounded split fit and bounded shrink. Bounded slip fit constitutes clearance and a cured adhesive that transmits the load. While in the bonded shrink, the cured sealant and the friction transmit the load. The surface-to-surface metal contact in a bonded shrink is only 25%, and the liquid-retaining compound fills 75% of the inner space. The liquid anaerobically cures to form a high-shear strength adhesive plastic.