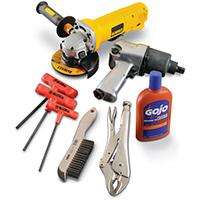 Hand & Power Tools
Hand and power tools are considered essential parts of the mounting and dismounting processes of bearings, couplings, wheel rings, sprockets, etc. HVH Industrial offers a wide range of hand and power tools depending on the user's needs, requirements, and preferences.
Hand tools are precisely what they sound like, which means that they require manual labor use. Power tools have a power source that allows operating automatically and without human interference. The tools offerings include mechanical pullers, hydraulic pullers, induction heaters, etc.
HVH Industrial works with the specialized engineering teams of manufacturers to meet our customer's requirements and the highest quality standards.
If you have any questions, write us via live chat (one of our team members will answer your questions), give us a call, or send us a quote request. The HVH team is always ready to help you.
1(866)577-4040
or
---
Manufacturers

---
At HVH Industrial Solutions, we offer a variety of industrial hand and power tools, such as mechanical pullers, Maxxeon work lights and flashlights, hydraulic pullers, induction heaters, fitting tools, and bearing handling tools.
Types of Hand and Power Tools
Mechanical Pullers
Mechanical pullers are the most popular type of puller and are often the most affordable. They consist of a threaded rod with a handle, a threaded nut, and one or more jaws that fit around the part to be removed. The jaws are tightened around the part using the nut, which pulls the part off the shaft. When using this type of puller, it is important to ensure that the jaws are properly aligned with the part, as misalignment can cause damage to the parts.
Maxxeon Lights
Maxxeon lights are a line of portable LED work lights designed for professionals requiring bright, durable, and long-lasting light sources. These lights are designed to offer a combination of high-quality illumination, energy efficiency, and user-friendliness for a wide range of applications. Maxxeon lights are used by technicians, mechanics, electricians, and other professionals who require reliable and efficient light sources. The lights are available in various sizes, shapes, and configurations. They are ideal for use in various environments, including workshops, factories, warehouses, and other industrial and commercial settings.
Hydraulic Pullers
Like mechanical pullers, hydraulic pullers are tools that remove components from machines and equipment. Instead of a mechanical force, hydraulic pullers use hydraulics to generate the force needed to pull out bearings, gears, and other components with high precision and accuracy.
Induction Heaters
Induction heating is a fire-free, non-contact method of heating metals in which electrically conductive material can be heated by placing it within an alternating magnetic field. An induction heater mainly consists of a work coil connected to a high-frequency power supply, circuits, and a workpiece. The main advantages of induction heating are its speed and efficiency. Induction heating is significantly faster and more efficient than other heating methods, such as conventional ovens or furnaces, as the heat is applied directly to the part.
Fitting Tools
The Fitting Tool, combined with a mechanical press, guarantees the correct assembly of components with an inside diameter greater than 50 mm. A fitting tool is ideal for installations requiring high mounting forces since the tool can be used on presses. It thus allows installations that could not be performed by striking with a hammer. This is a perfect solution for pressing in or on bearings or other ring-shaped components, and also it is the only product designed for use with presses.
Bearing Handling Tools
A bearing handling tool is a device to install and remove bearings from a machine or structure safely. A bearing handling is the ideal solution for lifting, turning, rotating, transporting, and installing medium-sized and large bearings.