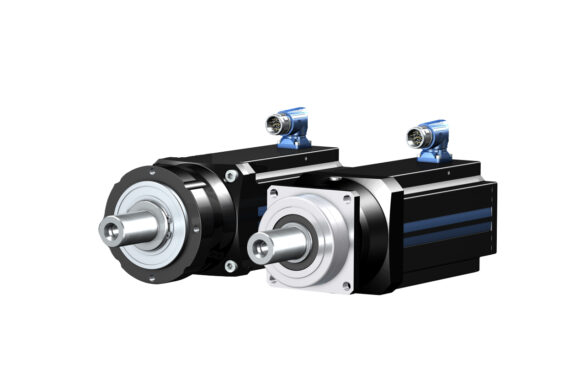 Planetary Geared Lean Motors
The most impressive feature of the new generation of planetary gear units is its enormous variability. All STOBER motors of the encoderless, very economical LM series can be directly attached in any size you need – without adapters. Because the geared motor is so compact, you get the benefit of up to 65% increased power density. And with the lower mass moment of inertia by leaving out a motor adapter, you can also utilize the full dynamics of the drive.
Two series are available for the planetary geared lean motor: PLM: For high precision and smooth operation and PELM: The highly cost-effective economy variant.
The decisive characteristic of the P series planetary gear unit is the high-quality helical gearing that gives the gear unit smooth operation that is second to none.
Another outstanding property is its extremely high efficiency. Due to the very low frictional torques, this series is ideal for continuous operation and high-speed applications. The P series combined with our encoderless Lean motor: The result is a precise, rugged, and extremely energy-efficient geared motor with high torsional stiffness and backlash stability.
The PE series of Planetary geared Lean motors features extremely cost-effective planetary gear units for the economy range with high performance.
They also have the high-quality helical gearing typical of STOBER – for low noise development and the best smooth operation.
It's a unique feature on the market in this price and product class. PE gear units are an economical alternative to the P series and are ideal for efficient applications in automation and robotics.
PELM: In combination with an IE5-classified STOBER Lean motor, you get an unbeatably cost-effective, compact, economy gear unit. For applications in automation and robotics.
Lean Motors (LM) Catalog Stober
HVH Industrial Solutions is an authorized distributor of Stober.
We work closely with the Stober engineering team to provide superior customer service and engineering support.
If you have any questions, write us via live chat (one of our team members will answer your questions), call, or send us a quote request. The HVH team is always ready to help you.

1(866)577-4040
or